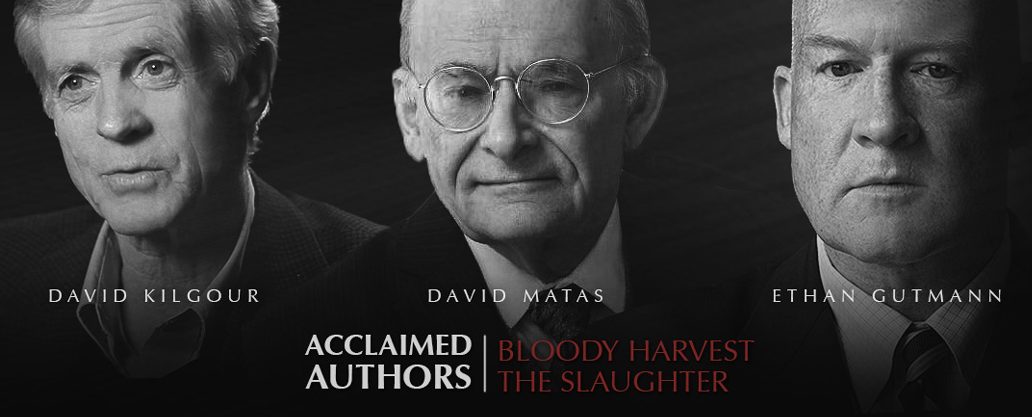 David Kilgour, David Matas and Ethan Gutmann have been very active in conducting investigations into the organ harvesting of Falun Gong practitioners in China. David Kilgour is former Canadian Secretary of State (Asia-Pacific), David Matas is Human right attorney in Canada, and Ethan Gutmann is an investigative writer, a former adjunct fellow at the Foundation for Defense of Democracies. They have published two books for their investigation of organ harvesting.
Bloody Harvest: Organ Harvesting of Falun Gong Practitioners in China
David Matas (Author), David Kilgour (Author)
Publication Date: October 1, 2009 | ISBN-10: 0980887976
The book derived from their investigation report sadly concluded:
"The allegations of systematic organ harvesting specifically targeting Falun Gong followers are true."
Falun Gong is a modern day spiritual/exercise movement which began in China in 1991 drawing on and combining ancient Chinese traditions. The Chinese Communist Party, alarmed at the growth of the movement and fearing for its own ideological supremacy banned the movement in 1999. Falun Gong practitioners were arrested in the hundreds of thousands and asked to recant. If they did not, they were tortured. If they still did not recant, they disappeared. Allegations surfaced in 2006 that the disappeared were being killed for their organs which were sold for large sums mostly to foreign transplant tourists. It is generally accepted that China kills prisoners for organs. The debate is over whether the prisoners who are killed are only criminals sentenced to death or Falun Gong practitioners as well. The authors produced a report concluding that the allegations were true. Bloody Harvest sets out the investigations and conclusions of the authors.
The Slaughter: Mass Killings, Organ Harvesting, and China's Secret Solution to Its Dissident Problem
August 12, 2014, by Ethan Gutmann
The inside story of China's organ transplant business and its macabre connection with internment camps and killing fields for arrested dissidents, especially the adherents of Falun Gong.
Mass murder is alive and well. That is the stark conclusion of this comprehensive investigation into the Chinese state's secret program to get rid of political dissidents while profiting from the sale of their organs–in many cases to Western recipients. Based on interviews with top-ranking police officials and Chinese doctors who have killed prisoners on the operating table, veteran China analyst Ethan Gutmann has produced a riveting insider's account–culminating in a death toll that will shock the world.
Why would the Chinese leadership encourage such a dangerous perversion of their medical system? To solve the puzzle, Gutmann journeyed deep into the dissident archipelago of Falun Gong, Tibetans, Uighurs and House Christians, uncovering an ageless drama of resistance, eliciting confessions of deep betrayal and moments of ecstatic redemption.
In an age of compassion fatigue, Gutmann relies on one simple truth: those who have made it back from the gates of hell have stories to tell. And no matter what baggage the reader may bring along, their preconceptions of China will not survive the trip.
AN UPDATE TO 'BLOODY HARVEST' & 'THE SLAUGHTER'
On June 22, 2016, former Canadian cabinet minister David Kilgour, human rights lawyer David Matas, and investigative journalist Ethan Gutmann published an updated 680-page report to their books Bloody Harvest and The Slaughter. The new findings reveal continued expansion of transplantations in China after organ harvesting first came to light in 2006, driving factors behind the industry's growth, the role of Party and government agencies and individual officials in implementing and perpetuating the systematic killing of prisoners of conscience for their organs. Read more.